Support Turia Pitt as she takes on her first IRONMAN for Interplast
Interplast ambassador, Turia Pitt was burned to 65% of her body during the 2011 Kimberley Ultra-marathon and it has been a long, cruel journey to get to where she is now.
During her rehabilitation it was her desire to one day become an IRONMAN that saw her through some of the most challenging times, "When I was in the hospital I was told that I'd never run again... I thought 'I'll show you, I'm going to do an IRONMAN one day".
Turia was introduced to Interplast through her reconstructive surgeon and it has become a cause that she passionately champions.
Please support our inspiring ambassador as she takes on this incredible challenge to support our life changng work.
For over 33 years Interplast has been sending volunteer medical teams to developing countries in the Asia Pacific region to provide free reconstructove surgery, signififcantly imrpoving the quality o flife for people living with treatable disabilities. Interplast also heavily focuses on building the capacity of local medical staff through training and mentoring programs.
You can change a future today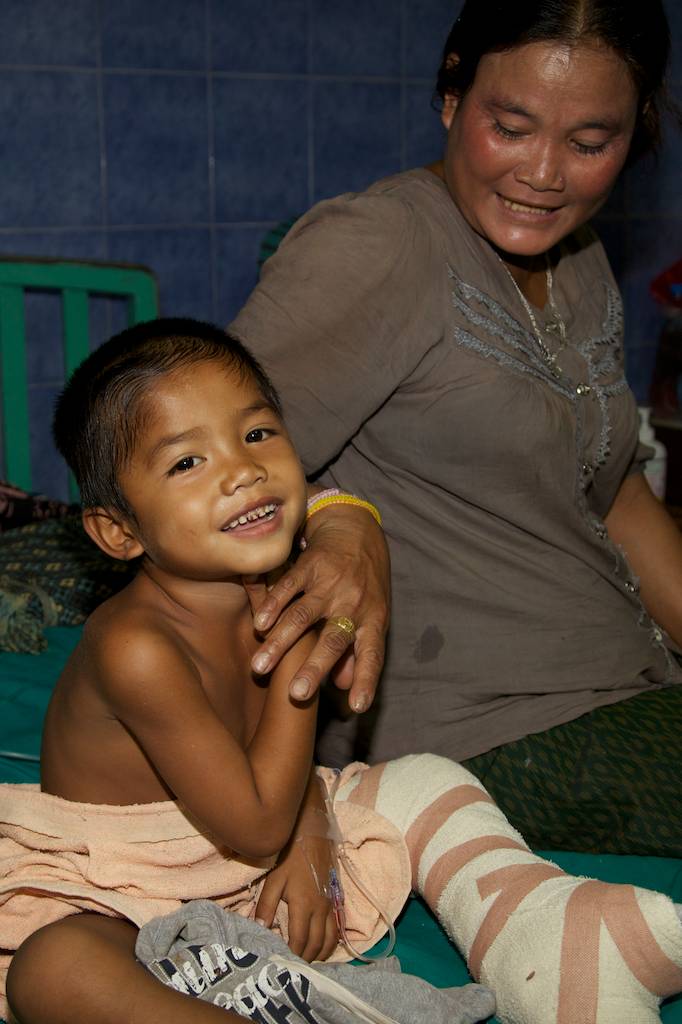 Khamkhy with his mum post operation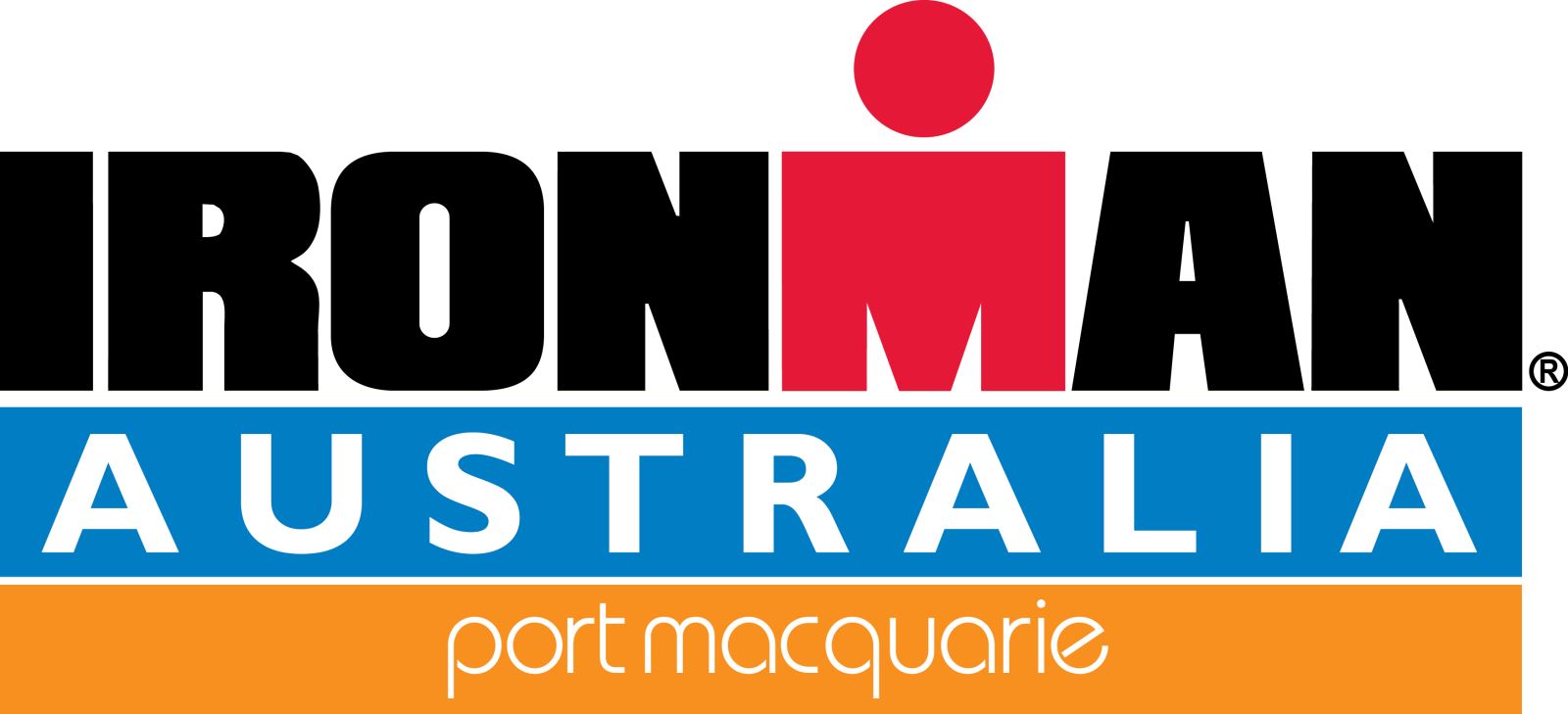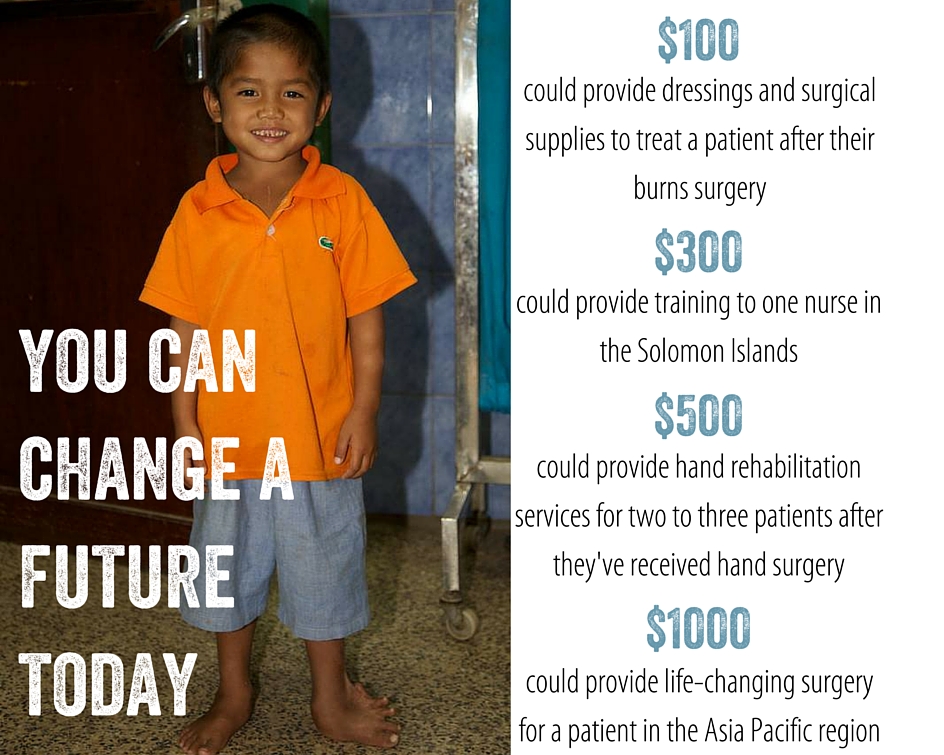 This is Khamkhy, just one
future among the many
we have changed...
Khamkhy from Laos, pictured here, sustained burns to his
left foot at the age of just 3 months. His injuries were not
properly treated at the time and they lead to the debilitating
burn contracture you can see in the photo above. Eventually Khamkhy would have been unable to walk.
Interplast volunteers released his burn scar contracture
during a 3 hour operation which enabled him to walk and
run properly for the first time in his life.
| Supporters | Amount | Message |
| --- | --- | --- |
| Christian Panariello | $100.00 | |
| Anonymous | $31.80 | |
| Annie Humphries | $50.00 | |
| Peter Hinrichsen | $530.00 | |
| Donated speaking fee | $10,000.00 | |
| Anonymous | $53.00 | |
| Elaine Leahy | $53.00 | Well done Turia!!! You are inspirational!! |
| Anonymous | $31.80 | |
| Samuel Teisseire | $100.00 | |
| Margaret Hudson | $53.00 | |
| IRONMAN Awards Dinner | $1,301.35 | |
| Lisa Blythe | $100.00 | |
| Leanne Williams | $500.00 | |
| Courtney Alchin | $31.80 | |
| Sarah Ryan | $20.00 | |
| Wendy Sekuloff | $50.00 | |
| Julie Francis | $26.50 | |
| Cherisse Lyons | $53.00 | |
| Carrie Drazin | $31.80 | |
| Anonymous | $79.50 | |
| Anonymous | $31.80 | I've watched your story and heard you speak. What an amazing inspirational and tough woman you are. |
| Julie McCormack | $20.00 | |
| Harding Conveyancing Pty Ltd | $106.00 | |
| Amanda Duncan | $53.00 | congratulations, amazing ! xx |
| Karen Greenwood | $31.80 | Inspired!!! |
| Louise Booth | $31.80 | |
| Marnie O'Shea | $106.00 | |
| Offline Donation | $162.10 | |
| David Inglis | $106.00 | Turia-what a sensational effort and result-congratulations-thankyou for your on-going wonerdful support-David Inglis-President Interplast Australia and New Zealand |
| GEOK SIANG KHOR | $31.80 | |
| Mitchell Dawson | $31.80 | Go get em |
| Alix Parker | $106.00 | Turia - congratulations on finally becoming an Ironman!!! You are truly an inspiration x |
| Simon O'Connor | $31.80 | Just awesome! |
| Natasha Schurink | $106.00 | Well done with the Ironman yesterday, All the best for Kokoda - you will love it, amazing experience you will never forget. |
| Anonymous | $31.80 | |
| Emma Luscombe | $21.20 | So strong. So tough. So courageous. So much love. xox |
| Ryan Holsheimer | $1,060.00 | |
| Riina Aapa | $53.00 | |
| Alisa Mangulabnan | $53.00 | |
| Sue-Ellen Smith | $31.80 | Thanks Turia ?? |
| Monica Muggeridge | $106.00 | Inspirational....and slightly crazy! |
| Business Chicks | $13,770.00 | |
| Kelly Farlow | $31.80 | |
| Carolyn Belczyk | $31.80 | |
| Sarah Reilly | $106.00 | Turia your spirit is amazing! |
| Stephen Walsh | $31.80 | |
| Gina Marozzi | $31.80 | Congratulations Turia! |
| Kim Allen | $21.20 | You are a truly inspirational woman Turia with such drive and passion and out of this world mental and physical strength. You are an amazing role model to an infinite amount of people in this world. |
| Joanna McNamara | $31.80 | Amazing race in Port Macquarie Turia. Good luck with Kokoda - anything is possible. |
| Grace Keyworth | $30.00 | |
| sally timbs | $31.80 | |
| Jennifer King | $106.00 | Turia, I have no words to describe how I feel about your effort today. People like you make this world go around... |
| Chantal Agius | $31.80 | |
| Josh Leitner | $212.00 | Take my hat off. Absolute champion |
| Daniel Radnidge | $31.80 | Run faster than Forest |
| Ironman - Active Release Technique. | $451.00 | |
| Ironman General | $196.00 | |
| Business Chicks | $7,900.00 | |
| Laura Nicholson | $31.80 | You absolute champion, I'm nervous as hell just to do Kokoda and you manage to squeeze in an IronMan just 3 weeks prior!?! See you at the finish line! |
| Miriam Herring | $53.00 | Go hard Turia. Thinking of you today. Miriam and Nadine |
| James Brescia | $106.00 | I can't believe you are running an iron man! Massive congrats on all your hard work getting here! And good luck for tomorrow! |
| Kylie Jones | $106.00 | Turia - you are awesome! What an achievement!I love that you love my beautiful cousin Michael and his family and can't wait to catch up soon xxx |
| IRONMAN Australia Welcome Dinner | $1,463.15 | |
| Diana Black | $106.00 | Go Turia you amazing woman! |
| Tania Lewis | $300.00 | |
| Sarah Kilner | $31.80 | Completing an Ironman is inspirational, but your journey to Port Mac makes it beyond inspirational. Impressive! |
| Dolores Lucas | $31.80 | |
| Linda Christison | $31.80 | |
| Ann Alexander | $31.80 | |
| Julia Hasche | $106.00 | |
| Alex Parkes | $21.20 | Go girl! X |
| Sarah Montefiore | $106.00 | |
| Anonymous | $53.00 | Such a babe. Awesome work T! Enjoy your well earned rest when you get home from Kokoda X |
| Veronica and Jim Dounis | $100.00 | Well done Turia. You're always amazing us ? |
| Ivan Hales | $100.00 | |
| Caroline Houston | $106.00 | |
| Toni Thornton | $265.00 | IMOZ.... Smash it out of the park... And then savour the finishers chute...!! You go girl! |
| Anonymous | $31.80 | Always an inspiration Turia to so many of us - best of luck in your Triathlon and fundraising - great cause |
| Anonymous | $10.60 | |
| Mischa O'Donnell | $106.00 | Go you good thing! |
| Chris Lowry | $250.00 | Thanks for your great suport for Interplast - you are an inspiration to many of us. |
| Jamile Tuma | $31.80 | Turia, your are amazing! You can do it! |
| Lis Clough | $30.00 | Dear Turia. You go girl! Lis xx |
| Colin Thompson | $50.00 | |
| Hal Benson | $106.00 | |
| Hayley Morris | $500.00 | Go Turia - you are amazing and looking forward to Kokoda in a few weeks! |
| Mary Millgate | $20.00 | You've been an inspiration to me since I heard you at the Shoalhaven Women's Conference and have followed your journey ever since. May you travel well on this new challenge in your life knowing that you help others recover from burns tragedies such as you have faced. I so admire you. I send you positive strokes for this journey ahead of you. My love Mary |
| Anonymous | $21.20 | |
| cami palomo | $1,060.00 | I am so proud and honor to help Turia with this amazing cause and for inspiring me and so many to always look ahead and to be extraordinary !!!!!!! you are going to do great !!!!!! |
| Myriam Smith | $53.00 | Go Amazing Turia |
| Tess Wilson | $53.00 | Such an incredible cause!! |
| Julia Cook | $106.00 | You're amazing T-dog! All your hard work is done, and now you can finally race YAY - Go get them superwoman and have an amazing time :) |
| Anonymous | $106.00 | Go Turia See you out on the course on Sunday! Cheers Bruce |
| Energy Link Coaching | $212.00 | You are a true champion Turia and we can't wait to support you all the way to the finish line! |
| Ase (Orsa) Mohrenberger | $31.80 | Go Turia, You are an amazing person and a fantastic inspiration to us all. Good luck and all the very best. Orsa |
| Mary Kavanagh | $31.80 | Good luck Pitty! A great personal achievement and combining it with raising more funds for Interplast = AWESOME. XOXOXOXO |
| Michelle Kothe | $106.00 | |
| Anonymous | $10,000.00 | Donated speaking fee |
| Kay Patterson | $265.00 | Go Turia you are an inspiration and thank you for all you do for Interplast Kay P |
| Mischa O'Donnell | $106.00 | Your continued support of Interplast and your even more extraordinary physical feats are an inspiration Turia - good luck for the event! x |
| Ssassy Lane Photography | $31.80 | Good luck, you are amazing! |